Inspections
Standard Home Inspection
I'll inspect the structure, systems and components of the home, inside and out, from the foundation to the roof.
As a home inspector trained and certified by the International Association of Certified Home Inspectors (InterNACHI), I adhere to their comprehensive Residential Standards of Practice. This means that I will inspect all of the following, when visible and accessible:
Roof
Structural Components
Attic, Ventilation & Insulation
Exterior Cladding, including EIFS
Porch & Deck
Attached Garage
Driveway
Foundation
Basement/Crawlspace
Electrical System
Plumbing System
HVAC System
Interior, including ceilings, floor, walls, windows/glazing, and doors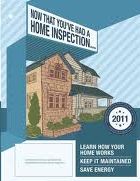 Following my evaluation, I'll compile my findings in an easy-to-understand report that includes checklists, and detailed descriptions and high-quality digital photos of any issues I've discoverd. Your same-day report will be delivered via email, and my job isn't finished until you understand everything in it.
You will also receive a FREE copy of
Now That You've Had a Home Inspection
, the home-maintenance manual that includes tips for keeping your home safe and in top condition.
For the First-time Home Buyer
If you're a first-time home buyer, I'll help you understand the ccurrent condition of the home, as well as how all of its components and systems work together for maximun efficiency. I'll also show you the location of safety and emergency shutoff valves and switches, and educate you about important maintenance items that should be addressed seasonally.
Move-In CertifiedTM Seller Inspection
Are you selling your home? Let me inspect it before you even list it. A Move-In Certified
TM
Seller Inspection informs you of any defects or problems with your home so that you can address them before prospective buyers discover them. You can then take the time you need to obtain reasonable repair estimates. Show prospective buyers that you are dealing in good faith. Avoid 11th-hour negotiations and delays, and justify your full asking price by having your home inspected now.
For the Real Estate Professional
Your reputation is your most valuable asset. Your clients rely on you to guide them through a complicated and sometimes stressful process. Demonstrate to them that their trust in you is justified by referring them to Final Step Home Inspections. My experience, training and professionalism will deliver the information your clients need. The best advertising is a happy client.